Orange County Outdoor Fireplace
This year we're finally starting to experience somewhat of a cold spell and it's a perfect timing for your new custom Orange County Outdoor Fireplace to be installed. Outdoor fireplaces are a great addition to your home not only for re-sell purposes but for entertainment purposes as well. It provides the necessary heat for one to enjoy themselves outside no matter what the weather is like. We custom build our fireplaces to replicate exactly what the customer ultimately desires. Since the outdoor fireplace serves multiple purposes as being not only a feature that predominately serves as the main focal point in your backyard but also a feature that can provide warmth and lounging benefits.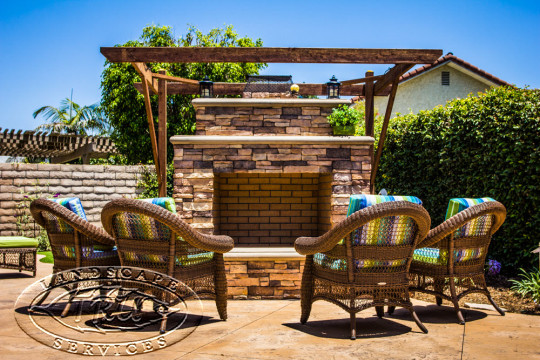 Custom Fireplaces
All of the Orange County Outdoor Fireplaces designed by TRU Landscape Services are custom made to order features. We build all of our outdoor fireplaces out of block, rebar, and concrete to reassure the strength and durability of our structures. Typically the sizes of the fireplaces vary but standard height is approximately 10ft by 8ft wide. Standard fireplaces we design have a 18″ inch high hearth that goes across the front face, this is the standard seating height. We use a (PIP) poured in place concrete for all of our bull nose caps, we recommend using a colored concrete to add a contrast of colors. The sides of the fireplace either receive a stack stone veneer or an option to stucco (either rough or smooth). Outdoor fireplaces can either be free standing features like the one shown above or incorporated within the patio cover. If the fireplace is to be installed within the patio area we will install a firebox insert instead of your typical wood burning firebox.
Landscape Contractor
TRU Landscape services not only offers fire place installations but anything that requires outdoor construction. We're interested in any outdoor project you may have, no job is to small for us. We've been in business for over 30 years and are family owned and operated. We're a licensed and bonded contractor that operates out of the Orange County area. Let us make all of your outdoor renovations dreams come true. Whether you're looking for a new Orange County Outdoor Fireplace like the one just presented  or something as simple as pouring a new concrete driveway, we're here to make your next project as simple and hassle free as possible. Our professional staff will take care of all of your needs. Call today to set up a free estimate at 1-866-487-1359 or go to our website at www.trulandscape.com to request a quote.