Orange County Landscaper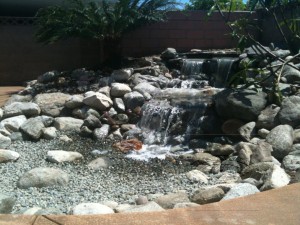 TRU Landscape Services was recently awarded for completing a landscape project in Anaheim, California.  Anaheim sits in the Northern part of Orange County, surrounded by the cities of Orange, Cypress and Yorba Linda. At the time, our customer was looking for a quality landscape design that would fall within a decent price range of his budget. Once we investigated the property's layout, we began to brainstorm around some great, innovative ideas. Given that our customer already had a large pond in their back yard, we were able to reconstruct a new and improved pond-less waterfall.  A pond-less waterfall is when the water actually runs underground but then resurfaces in a cyclical motion as it is pumped back up to the waterfall; these types of ponds require easy maintenance and are kid friendly.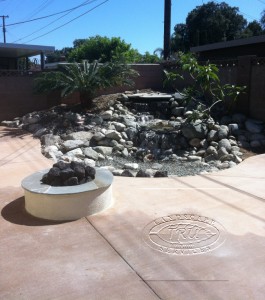 Orange County Fire Pit
In addition, TRU Landscape Services also built and implemented a fire pit in front of the water falls. Our first task was to install a new gas line. After successfully finishing the gas line installation, we began working on the fire pit. This particular fire pit was a 24' inches and styled in a round fashion. We installed stucco on the sides of it as well as flagstone cap. Next, we implemented lava rock within the middle of the fire pit. Our wide array of designs allows for personal customization and fine detail. When the fire pit construction is complete, we had our crews hard to work on the block wall that was falling over. Within a couple of days, we finalized the installation for a new block wall. We enjoy working on these kinds of projects since we have been providing hardscapes to Orange County for over 20 years.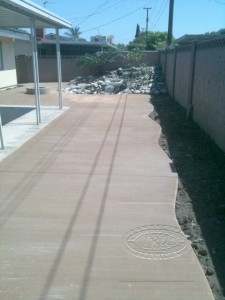 Orange County Concrete
Lastly, our customers communicated to us they did not want a yard that demanded high maintenance. Therefore, we suggested full concrete installation throughout the entire back yard. In terms of receiving a great deal on upgrades, one of our best offers is to add color to the concrete; the color truly puts a nice, smooth touch to the concrete. Finishing the project, we realized the concrete really brought this whole activity together. Our customer was very happy about the end result and ecstatic about the entire project overall. Once we completed our assignment, the customer mentioned to us that he received an estimate from another landscape company that was going to charge several thousand dollars more for same job. The main deciding factor in selecting TRU Landscape Services for their project was that we conducted all of our work with our own, specialized crews. If you're also in need for a qualified landscape contractor , please contact us out for a free estimate throughout Orange County.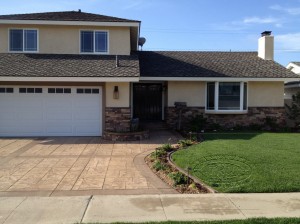 About us
TRU Landscape Services has been performing landscape services throughout Orange County, California for the last 25 years. We offer competitive landscape contracting services including general landscape construction, hardscape construction, water features, ponds, Putting Greens, we also offer Low Voltage Lighting, Synthetic Turf, Fire Pits, plus many other services.
Please call TRU Landscape Services toll free at : 866-487-1359
Blog's by TM