Malibu Lighting Orange County
TRU Landscape Services was asked to work on some Malibu lights. We try are hardest not to get involved with these lights. But we do want to provide our customers with the highest customer satisfaction as possible.  We had a customer in Yorba Linda ask us to repair his Malibu lights in his front yard. Yorba Linda is in Orange County, California. Yorba Linda is surrounded by the cities of  Anaheim Hills and Brea. As we were talking to the customer and explaining why these lights are not worth repairing. I shook one of the lights that was not working, that's all it took for the light to turn back on for a brief time. Malibu lights are made in China. Do we need to say anything more. The landscape lighting we use is made in the USA. Our manufacture is in Southern California and has been for over 25 years. We have a standard 8 year warranty on our lights. Most of our transformers have a life time warranty. Malibu lights have a very poor connection. These connections go bad very fast. Their connections are not weather proof, which allows moisture to get into the connection causing the lights to turn off.  Our outdoor lights use a weather tight connection. These connections keep all of the moisture out the lights. We have found this method  to be the best connection in the landscape lighting business. Malibu lights will save you money for a brief time, after that short time you'll be spending your weekends repairing them. Malibu is only a company that makes outdoor lights. Many people mistakenly refer to Landscape Lighting or Low Voltage lighting as Malibu lights. This gives the whole landscape lighting industry a black eye!  Low voltage lighting gives your property value and provides security at night. Landscape lighting is another element of a beautiful landscape. Now you can enjoy your landscape at night.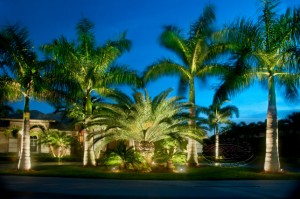 Orange County Landscape Lighting
TRU Landscape has install hundreds of Low voltage lighting systems in Orange County. Our lights have the highest warranty in the industry. With our manufacture not very far away from Orange County, we can get  lights made within days. Our lights are made with the highest quality of materials. Landscape lighting is now in the LED age. LED lights can save you money and energy for many years. The average LED landscape light can last up to 17 years of normal residential use. The Bulbs have a 10 year warranty on them. LED lights use about 80% less electricity then a halogen lamp. This makes them a Eco – Green product. The landscape lighting installation process has changed for the better. You can install more LED light's on one run of wires. Compared to the old halogen bulbs, that required many wires to be installed. This saves our customers money. Contact us for a free night demo! TRU Landscape Services is centrally located in Orange County. Providing all of your Outdoor lighting needs. We have been installing landscape lights for over 15 years in Orange County. We take customer service to a new level!